Earlobe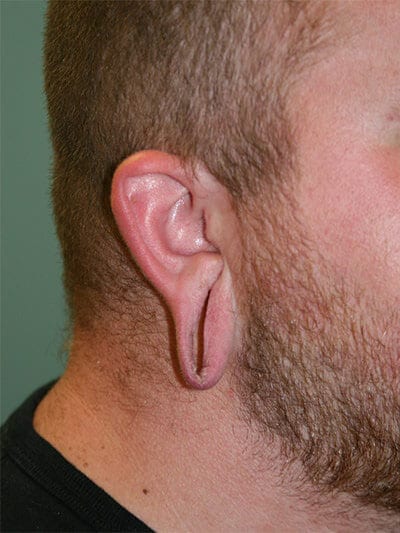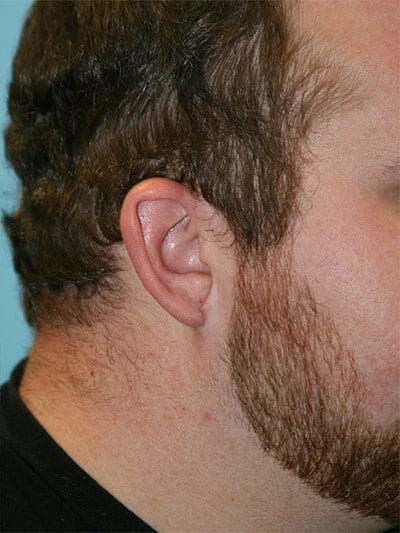 Before/After *results may vary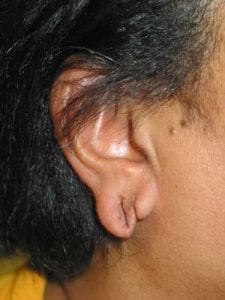 Torn Earlobe
Torn earlobes can occur from accidental injury (eg. Earring caught on an article of clothing), or from gradual stretching of the pierced site, often due to heavy earrings. Torn earlobes are categorized as either "complete tears" (torn all the way through the edge of the earlobe) or "incomplete tears" (a very stretched or elongated earlobe piercing site, that makes it difficult to wear earrings).

Repair is performed under local anesthesia in the office. Healing is complete by one week. However, re-piercing of the ear is performed 3 months after the repair. This is done to allow proper strengthening of the repaired site before weight-bearing jewelry can be placed. Dr. Albert Fox performs both the repair and the re-piercing.
Gauged Earlobe
Earlobe gauging is a popular body art treatment where sequential "plugs" or gauges are placed into the hole of a pierced ear. This gradually dilates the earlobe, leaving extremely large holes within the earlobe.
It is not uncommon for an individual to desire to reverse gauged earlobes. This desire may stem from a change in employment, entering the armed services or simply to repair a malformed earlobe. Repair of gauged earlobes is performed under local anesthesia. Small holes may be repaired in a single surgery and larger gauged ears may require several minor procedures.
Earlobe Reduction
Elongated, large or stretched earlobes can be a result of aging, heredity or trauma. Large or elongated earlobes can be reduced in both size and shape to more appropriately "fit" an individual's face. Earlobe reduction is performed in the office with local anesthesia. Recovery time is one week.
Please call or contact our office (508-207-4455) to schedule an appointment.