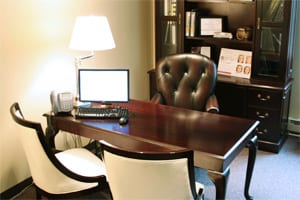 Your facial plastic surgery consultation provides a unique opportunity for Dr. Albert Fox to meet with you one on one, listen to your concerns, answer your questions and create an appropriate treatment plan to reach your aesthetic goals. This is also an opportunity for you to learn more about Dr. Albert Fox, his background and qualifications.
Dr. Albert Fox spends a minimum of one hour with each patient. Each patient's goals and realistic desires are carefully reviewed. After a medical and surgical history is obtained, Dr. Albert Fox provides a thorough facial analysis, taking into account each individual's unique anatomic facial features. During this period, photographs are obtained, and simulated before and after facial changes are reviewed with state of the art digital imaging software.
Communication is the cornerstone of the relationship between the patient and Dr. Albert Fox. Realistic expectations are also important to a successful outcome. A mutual understanding of what each patient's goals and desires are and how they can be achieved are of utmost importance.
Dr. Albert Fox will explain each procedure in detail, the expected post-operative recovery, as well as proper pre-operative and post-operative preparation. Ample time is provided to address any questions or concerns that a patient may have about their aesthetic or reconstructive surgery. Discussion and education about possible options, including surgical and non-surgical interventions are reviewed and a unique treatment plan is formulated for each patient.
Patient Forms
New Patient Information
Patient Rights
To schedule a confidential facial plastic surgery consultation, please contact us today!