Mole Removal
Dr. Albert Fox specializes in mole removal of the face, head, and neck. Moles can be removed under local anesthesia in the office with little or no downtime. Unwanted moles are often a source of dissatisfaction. Mole removal can improve one's appearance and self-esteem.
Skin Blemishes That Can Undergo Treatment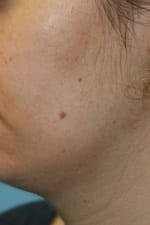 Below is a list of other common skin blemishes:
Actinic keratoses – patches of rough red or brown skin that develop after prolonged sun exposure.
Seborrheic keratoses – raised, warty thickening of the skin that often has a tan or brown color.
Dermatosis papulosa nigra – characterized by multiple raised, brown or black bumps on the upper cheeks near the eyes. It occurs most often in black or Asian individuals.
Xanthelasma – a small, yellow growth that occurs on the eyelids.
Syringoma – skin-colored growth that may develop on or near the lower eyelids or along the side of the nose.
Rosacea – a condition that is characterized by areas of redness or red-colored bumps on the face.
Rhinophyma – a severe form of rosacea that affects the nose. It is characterized by enlarged oil glands and gradual thickening of the nasal skin that may lead to enlargement of the nose. Read more about rhinophyma.
Telangiectasias – fine blood vessels or spider veins that appear most commonly on the cheeks or nose.
Lentigines – also known as "age spots" or "liver spots", are over-sized freckles. Lentigines are caused by excessive sun exposure.
Contact Dr. Albert Fox for a confidential consultation and comprehensive facial evaluation.